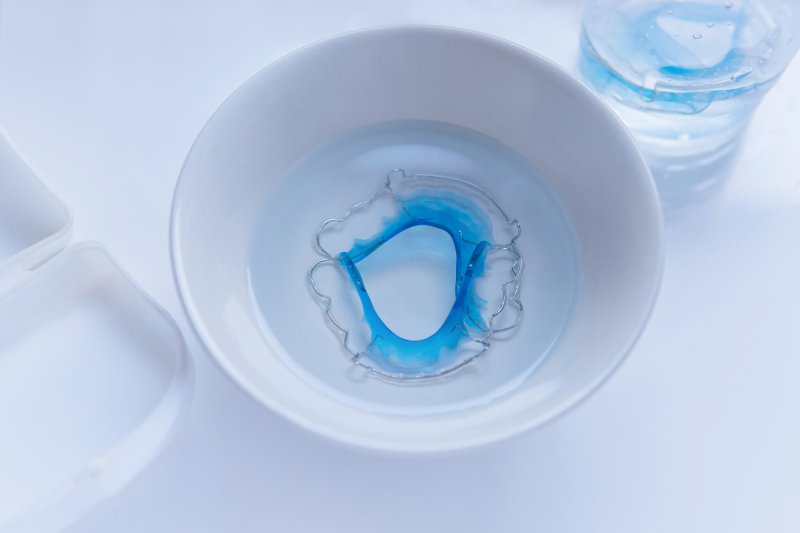 Getting your retainer is the "second phase" of your orthodontic treatment, and it's just as important as the first. You put a lot of time and effort into making your teeth straight, so now that the hard part is over, you just have to keep them that way. That means taking good care of your retainer. Here's how to make sure that you get the most out of your oral appliance.
#1: Gently Clean Your Retainer Every Day
To prevent bacterial buildup, you need to make sure to clean your retainer thoroughly every day. There are two ways to do this.
The first is to gently brush your retainer with a normal toothbrush. This should be more than sufficient to clean out any plaque buildup. It's important that you brush your retainer without any toothpaste, as any grit it may contain could cause scratches.
The second is to use a denture soaking solution, which is designed specifically to disinfect oral appliances. Soaking solutions have been proven effective in being able to break up bacteria colonies that may have clung to your retainer. If you'd like, your dentist can recommend a brand of solution to use.
#2: Avoid Harsh Cleaners
Making sure your retainer is sanitary is important, but you need to use the right tools to do so. You should never soak your retainer in bleach or alcohol-based mouthwash, as these can potentially cause damage. You should also keep it away from hot water, as heat can cause your oral appliance to warp.
#3: Never Eat with While Wearing Your Retainer
In the months after your braces come off, you might need to wear your retainer as much as possible while your teeth settle into place. In that case, be sure to take out your retainer during meals. At best, you'd make your retainer unnecessarily dirty, and at worst you could snap a wire. Pick out a stylish carrying case and put your oral appliance into it while you eat. Avoid storing it in a napkin or tissue, as it can be easy to accidentally throw it away.
After having braces for a year or two, taking care of your retainer should be a breeze. With a little bit of TLC, it should keep your teeth straight for a long time to come.
About Our Practice
At Drabik Orthodontics, we love providing people at any stage of their life with the orthodontic services they deserve. We know that keeping your teeth straight isn't easy, so we work hard to make the process as comfortable as possible. Our team of experts will make sure that your retainer fits you perfectly and will keep your teeth in place for a lifetime. If you have any further questions about caring for your retainer, we can be reached via our website or by phone at (585) 872-4660.