Clear Aligners - Webster, NY | Rochester, NY
The Clear Path to a Straighter Teeth and a Beautiful Smile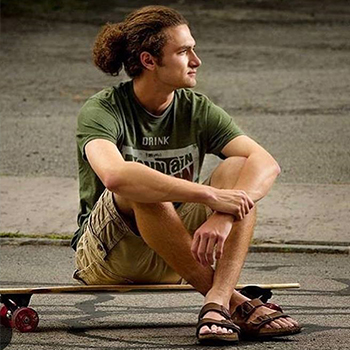 Have you always wanted to straighten your teeth but have avoided doing so because you did not want metal braces. Clear aligner treatments are exactly for you! They are sleek, comfortable, and proven to correct crooked, crowded, and oddly spaced teeth, often in less time than traditional braces. Our orthodontic office is happy to offer Invisalign for adults as well as Invisalign TEEN for image-conscious children. Patients are always pleasantly surprised by how discreet this treatment actually is. Interested in getting Invisalign treatment for either you or your child? If so, schedule a consultation with Dr. Drabik to get started!
Why Choose Drabik Orthodontics for Clear Aligners?
Certified Invisalign Elite Provider since 2010 and Platinum Provider since 2018
Custom-made smooth plastic aligners create a comfortable fit
Most treatment plans require 6 -18 months
Invisalign® Clear Aligners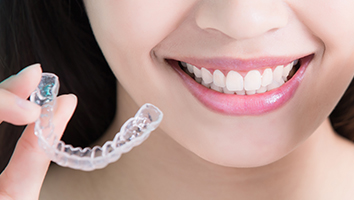 Invisalign uses a series of custom-made, clear plastic aligners to gently straighten the teeth. The aligners are chronologic and are switched weekly. Each aligner fits over every tooth providing comfortable consistent movement. Once patients have completed the entire series, their newly straightened smile will be ready for the world. The aligners are virtually invisible, so no one will notice you are wearing them unless you tell them.
Invisalign is custom fitted to your teeth based on a treatment plan designed by Dr. Drabik.
Even better, the aligners are easily removable. You will not have to alter your diet or oral hygiene habits as with conventional braces. Just take the aligners out, enjoy your favorite foods, brush, and put them back in. This flexibility helps Invisalign easily be a part of your lifestyle. Treatment can usually be completed in 6-18 months, which is notably shorter than the 2-3 years most people need for braces.
Invisalign® TEEN Clear Aligners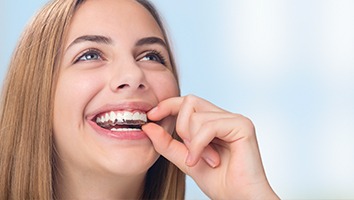 Do you have a teen at home who could benefit from orthodontic treatment but is hesitant to wear braces. They may be a great candidate for Invisalign TEEN. This treatment uses the same clear aligner system as Invisalign that we detailed above, but there are two distinct differences that make it perfect for our teenage patients.
First, every aligner has two blue dots toward the back. They cannot be seen while the aligners are being worn. The blue dots change color as the aligners are being worn. This allows both teens and parents to assure the aligners are being worn enough and treatment is on track. The second distinction is every treatment plan comes with a set of replacement aligners just in case one becomes damaged, broken, or lost. It is the perfect way for older children to get the treatment they need in a way that helps them maintain their confidence.