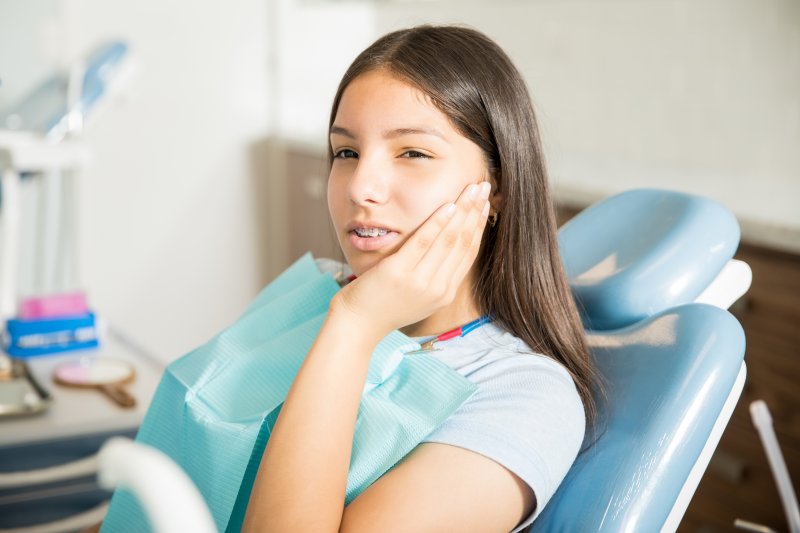 Traditional braces use metal brackets and wires to shift teeth into straighter positions. As a result, they need to be incredibly durable, especially since they are attached to teeth for years at a time. However, there is always the possibility that they can break while in use. This is why it's vital to avoid foods you shouldn't eat while wearing braces and wear a mouthguard if you play sports. With that said, bad falls and other accidents can still happen. The moment you believe you have broken braces, be sure to keep the following tips in mind.
Confirm If You Need to Visit the ER
Try not to panic, take a deep breath, and go into your bathroom to look at the damage to your braces in the mirror. In rare cases, a broken bracket or loose wire can cause some serious life-threatening situations. This includes bleeding that lasts longer than 10 minutes or difficulty swallowing. If these symptoms are present, go to the emergency room immediately.
However, if you have damaged braces and these symptoms are not present, call the orthodontist directly as the emergency room likely won't be able to help you.
Get in Touch with an Orthodontist
After evaluating your damage, call the orthodontist you are receiving care from. If you can get in touch with them during their office hours, you'll be more likely to see them the same day you call. At the very least, you can leave them a voicemail breaking down your symptoms so they can get back to you.
Get Relief Ahead of Your Visit
Chances are you'll have a few hours to kill before your appointment. If you're experiencing discomfort as a result of a bracket or wire protruding into your gums, use dental wax to cover it temporarily. A cold compress can also help bring down swelling or numb the area of pain. Feel free to take any over-the-counter painkillers as well to help you stay comfortable in the meantime.
Stay Preventive Against Future Issues
After you've visited the orthodontist and gotten your issue taken care of, start thinking about ways to prevent future orthodontic emergencies from happening. For example, you may want to consider an athletic mouthguard if you are particularly active. Do your best to avoid any crunchy foods and keep up with your progress checks so minor issues don't have time to turn into major ones.
While no one wants to experience an orthodontic emergency, orthodontists are ready to help if one occurs. Speak with an orthodontist today to learn more tips to prevent a broken bracket or wire!
About Drabik Orthodontics
You deserve a smooth and stress-free orthodontic experience, and that's exactly what you can expect when you visit Drabik Orthodontics for care. When bad falls, sports injuries, or other accidents happen, our experienced orthodontists Dr. Drabik and Dr. Peres are prepared to restore your braces and get you out of pain as quickly as possible. To schedule an emergency appointment, you can contact them through their website.