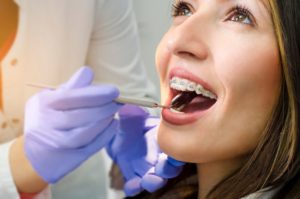 The wonderful thing about modern times is how much easier, convenient, and reliable many things are now. This even includes orthodontics! You can get the straight pearly whites you've always wanted with ease and comfort. However, you may feel at times that your teeth feel loose as you journey toward your dream smile with traditional braces. Read on to learn how braces work and why they can sometimes make your teeth feel out of sorts.
First Things First: How Do Braces Work?
Traditional braces use metal wires and brackets to guide teeth into an ideal position over a period of months or years. The brackets are semi-permanently adhered to the front of the teeth and connected by wires that create tension and pressure on the teeth. The exertion of force causes the periodontal ligament, which holds teeth in place, to be compressed and stretched. Over time, your teeth move in the correct spot and your smile begins to straighten. This not only improves your appearance but your oral health since you can brush and floss easier between your newly aligned pearly whites.
The Reason Braces Might Make Your Teeth Feel Loose
While braces are an incredibly effective and beneficial orthodontic treatment, they can cause some discomfort throughout the process. Some people even report that their braces are causing their teeth to become loose. This is not an uncommon sensation. Remember how the periodontal ligament is compressed and stretched as your teeth are moved into their desired position? This can lead to wider spaces between the teeth during the treatment, causing a feeling of looseness. However, the mouth is always ready to heal! Over time, the bone is broken down and reformed, resulting in an aligned smile. Once your teeth have arrived at their correct destination, the feeling of looseness should disappear.
Your Teeth Are Safe and Sound with Braces
So, as you can see, there's no need to worry if you feel like your teeth are loose during your orthodontic treatment. In reality, it means you are right on track and your teeth are doing what they are supposed to do. Essentially, it's a positive sign that the orthodontic process is working! And remember, your orthodontist is always available to help address any questions or concerns on your journey to your picture-perfect grin.
About the Practice
Drabik Orthodontics is eager to help you achieve your best smile yet and walk you through every phase of the journey! Their two orthodontists use customized plans and advanced dental technology to make the orthodontic process comfortable, fun, and successful. They offer a comprehensive range of services, including traditional braces and Invisalign. To schedule an appointment, contact them through their website or call (585) 872-4660.