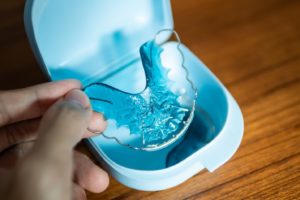 Most people desire straighter teeth because of the enhanced beauty that it brings to their smile. But did you know that crooked teeth can also result in tooth decay, gingivitis, and an increase in cavities? Fortunately, there are a wide variety of available orthodontic treatments to combat crooked teeth, and in turn, the associated health issues—and wearing your retainer following these treatments is crucial! Here's more about why this device is so important and some signs that it might be time to replace yours.
The Importance of Wearing Your Retainer
Many people assume that after wearing braces or clear aligners for a few months, they're finished with their orthodontic treatment—but that is not the case! Right after the orthodontic appliances have been removed, the tissues holding the teeth in place are still pretty loose, meaning that the teeth are still susceptible to moving and shifting around. This is where your retainer comes in handy; it keeps your teeth in place! Forgoing wearing your retainer will cause your teeth to return to the same position they were in before you underwent orthodontic treatment.
3 Signs It's Time to Replace Your Retainer
Your retainer isn't eternal nor is it invincible! With proper care, a removable retainer tends to last for about 5 – 10 years on average, with permanent retainers sometimes lasting even longer. Here are some signs to let you know when it's time to replace your retainer so that you continue to get its full benefits:
There are small cracks – Some retainers are made out of wire, some are made out of plastic, and some are a combination of both. If you're inspecting yours and notice small cracks in the plastic, it's time to order a replacement—otherwise, these cracks could grow!
It feels loose and doesn't fit snugly – Your retainer should fit snugly inside of your mouth, but over time it can wear down and become wide and unfitting. If your retainer is loose, it won't be able to prevent your teeth from reverting to their original, crooked positions. You should order a new retainer promptly to ensure that your teeth's progress isn't reverted.
There's calcium buildup – Even with diligent oral hygiene, you still might notice calcium buildup on your retainer over time. If it gets to the point where you're discouraged from wearing your retainer because of this, simply order a new one!
Your retainer is important; if you don't wear it, all of that orthodontic treatment was for nothing! That said, if you're noticing that your retainer doesn't look or feel quite right, it's probably time to get it replaced.
About the Author
Dr. Stan Drabik has proudly served patients and families in the Webster and Rochester areas for well over two decades. Dr. Drabik received his dental doctorate from the SUNY at Buffalo School of Dental Medicine and is a member of several professional organizations including the American Dental Association and the American Association of Orthodontists. If you've lost your retainer or it's time to replace your current one, don't hesitate to reach out online or by phone to schedule a visit: (585) 872-4660.