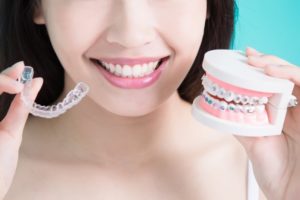 If you have crooked teeth, a misaligned bite, or gaps in your smile, you're probably weighing all of your options for enhancing the look and feel of your pearly whites. When it comes to orthodontics, most patients consider one of two different treatment options: traditional metal braces or Invisalign clear aligners. But you might have questions about both of these options and aren't sure which is best for your smile. Here are some of the advantages to each one so you'll have no problem deciding which to opt for.
The Benefits of Metal Braces
Traditional metal braces are a viable, tried-and-true method for addressing minor to severe orthodontic issues. They have several benefits including:
They're totally irremovable, so you don't have to worry about losing or changing anything out.
Since they're worn 24/7, the overall treatment process can sometimes be quicker than Invisalign. However, most patients wear their braces for roughly 2 years.
Cleaning teeth with metal braces is generally straightforward and requires nothing out of the ordinary; simply brush and floss as normal.
You'll need to regularly visit your orthodontist for follow-up appointments throughout your treatment process, so that your braces can be precisely tweaked and adjusted as needed.
The Advantages of Invisalign
Invisalign has taken the world of modern dentistry by storm, and more patients than ever before are turning towards the clear aligners to improve their smiles. Here are some of the benefits of Invisalign:
Unlike traditional braces, Invisalign clear aligners are totally removable, which is conveniently appealing to many patients. However, in order for the treatment process to be successful and without delay, the aligners must be worn for about 22 hours every day.
The trays are also transparent (hence the name) and virtually undetectable when being worn, unlike metal braces which are usually very noticeable.
Whereas traditional braces come with certain dietary restrictions, Invisalign doesn't—as long as you remove your trays to eat and drink, all of your favorites remain on the menu!
Invisalign trays are also straightforward to clean and care for; you can either brush the trays or rinse them in an appropriate solution.
Which Solution Is Best for My Smile?
Simply put, there are several distinct benefits to each option and the final decision will come down to you—although your orthodontist will likely have some valuable input, too! If the appearance of metal braces is something that bothers you, Invisalign might be your preferred option. Invisalign is a popular choice for teens that are self-conscious of wearing braces, or adults that need orthodontia later in life as a result of not wearing their retainer after having braces in the past. However, if you're less concerned about your appearance and more focused on self-discipline or ease of treatment, or if you need extensive orthodontic work, metal braces are still a great option.
When comparing metal braces to Invisalign, there is no clear and obvious "better" option; both have several applications and varying degrees of usefulness! If you're unsure about which option is best for you, don't hesitate to speak with your orthodontist for assistance.
About the Practice
The team at Drabik Orthodontics is honored to serve the needs of the Webster, NY community under the leadership of Dr. Stan Drabik and Dr. Leah Peres. Together they combine several years of experience to provide patients with an exceptional level of care. Their practice is pleased to offer many available services including both metal braces and Invisalign! If you have any questions about the article or would like to schedule a visit, feel free to contact the practice online or over the phone: (585) 872-4660.