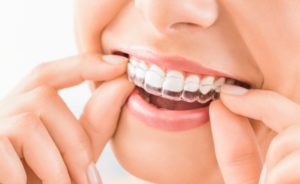 Invisalign is one of the hottest orthodontic treatments available—these aligners have helped millions of patients achieve straighter, more beautiful smiles! If you have crooked teeth, you might be curious about receiving Invisalign—but what if your top teeth are the only ones that need correction? Keep reading to learn more about how in some situations, Invisalign can be a viable option for straightening only the top half of your smile.
What Is Single Arch Invisalign Treatment?
Typically, most Invisalign treatments involve a pair of aligners that are worn over the top and bottom rows of your teeth. But with single arch treatment, you wear only one aligner on either your top or bottom teeth, depending on your needs. Just like any traditional orthodontic process, your aligners are changed out as directed (usually every week or two) to gradually shift your teeth into a healthier position.
Single arch treatment is usually best for people who have few crooked teeth and want cosmetic straightening to improve the way their smile looks. Often, more complex issues such as open bites or crossbites require treatment on both arches. However, you can consider single arch Invisalign treatment for correcting the following issues:
Minor spacing or gaps.
Slightly crooked front teeth.
A tooth tipped out of alignment.
Relapse after previous orthodontic therapy.
Are There Any Risks to Single Arch Treatment?
Though single arch treatment can be effective, it does come with some inherent risks. Your upper and lower arches of teeth have a very particular relationship where they close against one another. Adjusting your bite can change the existing pressure points, making it so that certain teeth hit higher or harder than others when you bite. When this happens, it can lead to issues such as toothaches, enamel wear and damage, and even TMJ pain. This means that the mouth must be carefully monitored before you can undergo single arch Invisalign treatment. Since one arch isn't being adjusted, the opposing arch's teeth also need to be considered!
How Do I Know If I'm A Good Candidate for Single Arch Treatment?
If the tooth movement needed is minor or more esthetic in nature, single arch treatment is usually a viable option. Fortunately, most single arch treatments are focused on the upper front teeth or lower front teeth, which allows for movement without altering the opposing teeth. However, speaking with your orthodontist about your smile goals and having them inspect your bite is the only way to know for certain if single arch treatment can work for your pearly whites. In some cases, traditional options with connectors such as rubber bands or elastics might need to be utilized.
If you're unhappy with your smile because of crooked teeth, Invisalign might be the solution you've been searching for, even if just one arch of teeth needs correction! That said, don't hesitate to speak with your orthodontist to see if your smile could benefit from these awesome aligners.
About the Practice
Drabik Orthodontics is honored to serve patients and families in the Webster and Rochester areas. Under the leadership of Dr. Stan Drabik and Dr. Leah Peres, the practice is pleased to offer a wide range of available services including Invisalign. If you have any questions or concerns about Invisalign or would like to schedule an appointment, feel free to contact the practice online or by phone: (585) 872-4660.