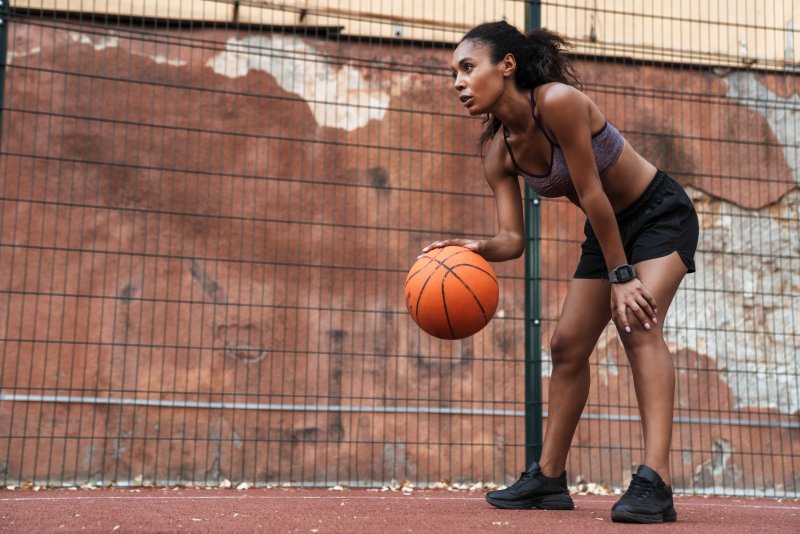 Do you regularly participate in sports? If so, you may be thinking that orthodontic treatment is out of the question for you since it could affect your performance. Well, that's actually not true! Options like traditional metal braces and Invisalign shouldn't affect your ability to play as long as the right precautions are taken. With that in mind, here's what you can expect from the following choices and how you can determine which one's best for your smile.
Playing Sports with Braces
Traditional metal braces are a great option for people with active lifestyles because they're bonded to the teeth. They cannot get lost during a game and they don't have to be removed before eating. Since they're so secure, they don't interfere with the ability to breathe or cause excessive discomfort.
Of course, complications can arise from having metal wires and brackets in your mouth. If you sustain a blow to the face in any way, it could damage your braces or cause injuries to your mouth, lips, and gums. For that reason, you must always wear an athletic mouthguard to keep your smile safe. They're crucial for protection when participating in activities where you could fall or have something hit your mouth.
Playing Sports with Invisalign
If you're worried about braces injuring your mouth while playing sports, Invisalign may be the ideal option for you. The likelihood of sustaining oral injuries is much lower because you don't have to deal with metal wires and brackets. Although the clear aligners can be removed if needed, it's not necessary to partake in physical activity. However, orthodontists strongly encourage athletes to swap out their trays with a traditional mouthguard when playing contact sports. That's primarily because Invisalign does not offer adequate protection against impact.
It's worth noting that you run the risk of losing your aligners since they must be taken out before eating or drinking anything that's not water. Therefore, you must remember to keep your plastic trays in their designated case when not in use.
As you can see, you don't have to give up on your dreams of having a straighter smile just because you play sports. Contact your orthodontist and schedule a consultation right away! They'll help you decide on the best treatment option for you. With their help, you'll have a winning grin to flash on the field or court in no time!
About the Practice
At Drabik Orthodontics, we are passionate about helping patients achieve a healthier, happier smile. Our team uses a one-of-a-kind approach when it comes to dentistry, ensuring that every patient gets the personalized dental care they deserve. If you play sports and are interested in undergoing orthodontic treatment, don't hesitate to reach out to us for guidance. Visit our website or call our office to make an appointment today!