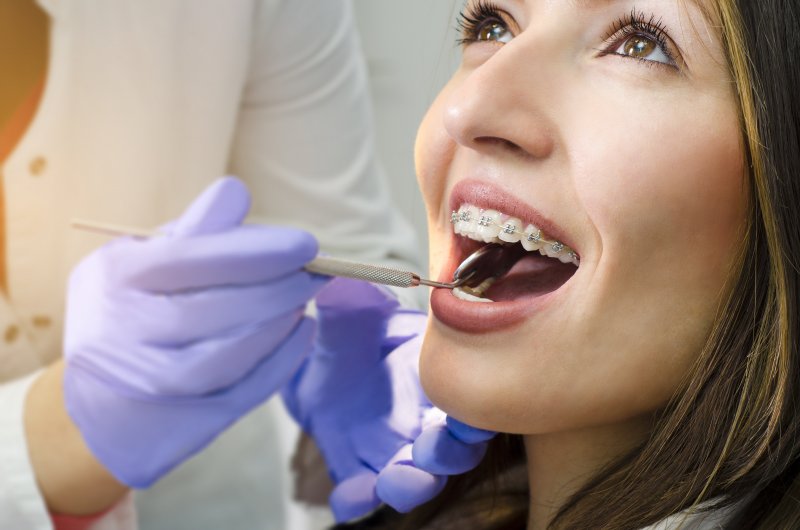 Before committing to orthodontic treatment, you were probably prepared for it to change several different aspects of your life. However, one thing you may not have expected is the impact traditional braces have on gums. For instance, some patients experience swollen gums while undergoing treatment. Luckily, it's nothing to worry about in most cases. Read on to learn what causes this symptom and what you can do to keep your smile in its very best shape.
What Causes Swollen Gums?
Do you wear traditional braces and have swollen gums? There are many reasons why that may happen, including:
Poor oral hygiene. Although brushing and flossing can be quite challenging with braces, it's incredibly important to practice good oral hygiene to prevent plaque and bacteria buildup. Both of those issues can irritate the gums and potentially infect them, which can contribute to swelling.
Movement of teeth. Believe it or not, gum inflammation is a natural reaction to having your teeth moved.
Underlying health conditions. Certain issues like diabetes and obesity are more prone to inflamed gums.
Why Your Gums Need to Be Healthy
When it comes to improving your smile, you may naturally put most of your focus on your teeth. However, gums are just as vital for a beautiful and healthy grin. If they're in poor health and are inflamed, you're at an increased risk of developing gum disease. Seeking treatment as soon as possible is crucial to prevent receding gums, tooth loss, and even lower your chances of heart disease. That said, don't forget to prioritize your gums while straightening your pearly whites with traditional metal braces!
How to Treat Swollen Gums with Braces
The good news is that there are many ways you can prevent and treat swollen gums while wearing braces. Here are just a few steps you can take:
Have a solid at-home dental care routine. Make sure you're brushing twice a day for at least two minutes each time, flossing daily, and using an ADA-approved mouthwash.
Take medication. If needed, you can take over-the-counter anti-inflammatory medication as directed to minimize inflammation and swelling.
Limit your intake of certain foods. Spicy, hot, acidic, and carbonated foods and drinks can irritate your gums and cause inflammation.
Use special dental tools. You can use specialized tools like a water pick or an orthodontic flosser to clean your gums more effectively.
As you can see, swollen gums are a common symptom while wearing braces. If you're having trouble managing it even after following the tips listed above, don't hesitate to contact your orthodontist. They'll identify the issue and inform you of your next best steps to get your smile back on track!
About the Practice
At Drabik Orthodontics, we use the latest technologies, techniques, and materials to make the orthodontic process as comfortable as possible for you. Our team prioritizes personalization and relationships above all else to ensure you receive the quality care you deserve. If you have swollen gums with braces, don't hesitate to contact our team for guidance. You can visit our website or call our office to make an appointment.