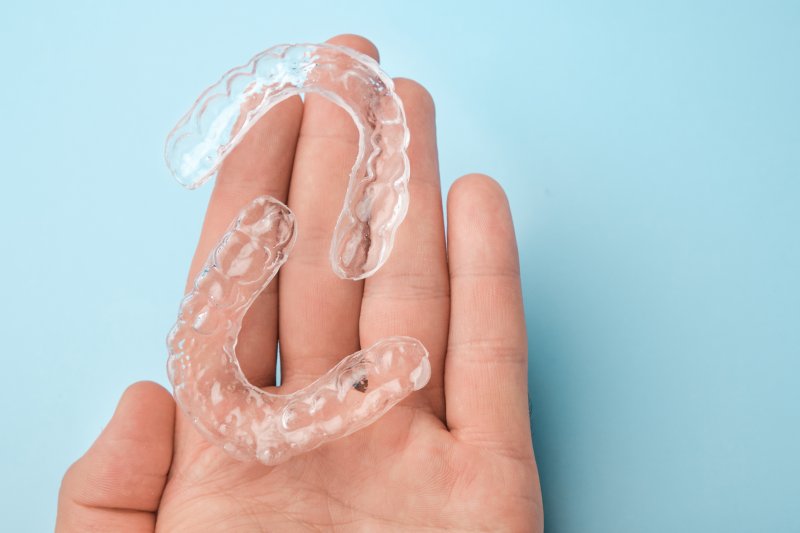 Although many adults with misaligned teeth are unhappy with their smiles, they're often hesitant to seek orthodontic treatment because they don't want to deal with the hassle of metal wires and brackets. Luckily, options like clear aligner therapy have become increasingly popular in recent years. The only downside is that getting perfectly straight teeth can sometimes be financially challenging. While mail-in clear aligners are certainly a more affordable option, orthodontists and the American Dental Association (ADA) are sounding the alarm on them. Read on to find out why!
What Are Mail-In Clear Aligners?
Since orthodontic options like Invisalign can be expensive, some companies are offering cheaper alternatives through mail-order businesses. That means instead of visiting a dentist or orthodontist, the company supplies you with an at-home kit so you can take impressions of your teeth and mail them in. A technician will then review them and determine whether or not you're a good candidate for their aligners. If you qualify, they'll send you custom-made aligners with treatment instructions.
The Hidden Dangers of Mail-In Clear Aligners
Many dental professionals are voicing their concerns about the use of mail-in order aligners because they want patients to be aware of the hidden dangers that come with it. Some of those include:
Lack of Supervision by a Licensed Orthodontist
When you start an orthodontic treatment like Invisalign, you're required to visit a dentist routinely to ensure everything is advancing safely and correctly. However, it may surprise you to learn that orthodontists do more than straighten teeth. At every checkup, they'll conduct an oral examination to catch problems like cavities and gum disease. Since these problems are often overlooked with home kits, they tend to go untreated, leading to severe complications down the line.
Treatment Plan That's Not Personalized
One thing to keep in mind is that your treatment plan will always stay the same since you're not having a professional monitor your treatment. Your mail-in clear aligners won't reflect any changes your teeth need to go through because they're sent in all at once. If your teeth start moving in unanticipated directions or your trays are causing problems, it's up to you to raise any concerns you might have.
You May Pay More Than Expected
Mail-in clear aligners can result in severe dental damage, leading to tooth loss, gum recession, and corrective procedures. As a result, you may end up paying more for correction than you would have for in-office orthodontic treatment.
Orthodontic Issues Might Be Worse After Treatment
There are multiple horror stories from patients who have used mail-in clear aligners. They claim the treatment made their teeth fall out, cut their gums, or ruined their ability to close their mouth or chew properly. Unfortunately, some of these companies will have you sign a form before treatment that states these problems will be your responsibility to deal with.
Ultimately, the safest and most effective way to straighten your teeth is with trusted orthodontic solutions like Invisalign. Contact your orthodontist and schedule a consultation to get started!
About the Practice
At Drabik Orthodontics, we strive to treat every patient like a member of our very own family. Our goal is to provide exceptional, high-quality, state-of-the-art dental services unlike anywhere else. If you're unhappy with your misaligned teeth, we offer Invisalign to help you discreetly and comfortably achieve the smile of your dreams. Visit our website or call our office to make an appointment today.