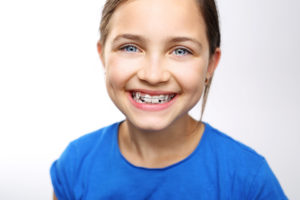 As your son or daughter's permanent teeth come in, is their smile starting to look a bit crowded? Orthodontic issues like crowded or crooked teeth can affect both your child's appearance and their dental function. However, unless you're a dental professional, it can be hard to know for sure when braces for children are necessary. Here are a few signs to look for to tell if your kid should see an orthodontist for treatment.
What Causes the Need for Braces?
While there are many sources of orthodontic trouble, most problems can be traced to family genetics. You inherited the size of your jaw and the shape of your teeth from your parents. Likewise, your children's teeth, mouth, and jaw are influenced by the genes you passed on to them. If your child's jaw does not have enough room to fit all their teeth, they will likely end up with a crowded or misaligned smile.
Orthodontic issues can also be caused by prolonged thumb or finger sucking, mouth breathing, dental decay, accidents, or poor nutrition.
Signs Your Child May Benefit from Braces
If your child's teeth are clearly crowded or misaligned, they will likely benefit from orthodontic treatment. Other signs that your son or daughter may need braces include:
Difficulty chewing or biting food
Frequently biting the cheek or roof of the mouth (deep overbite)
Teeth that meet abnormally or not at all (overbite, underbite, crossbite, or openbite)
Jaws and teeth that are out of proportion to the rest of the face
Early, late or irregular loss of baby teeth
The Benefits of Orthodontic Treatment
The most obvious benefit of braces is an attractive, straight smile. However, braces can also make a positive impact on your child's life in the following ways:
Protect Teeth: Braces can correct bite misalignment, which often puts abnormal stress on certain teeth, making them weaker. Without orthodontic treatment, these teeth may be more susceptible to breaking or chipping.
Prevent Gum Disease and Tooth Decay: Harmful bacteria and plaque can easily hide in the tight spaces between crooked or crowded teeth. Properly aligned teeth are easier to effectively brush and floss.
Ease Speech Difficulties: Misaligned teeth can also affect your child's speech patterns. Better alignment of the teeth and a properly fitting bite can often reduce speech difficulties.
Increase Confidence: Your child may experience a boost in self-esteem once they have a straight, beautiful smile.
When Should Your Child Get Braces?
The ideal age for children to get braces depends on many factors and varies from child to child. In general, orthodontic treatment for children often starts between ages 8 and 14. In this age range, most children already have some or all of their permanent teeth.
The best way to find out if braces are a good idea for your young son or daughter is to schedule a consultation with an experienced orthodontist near you.
About the Author
Dr. Stan Drabik has over two decades of experience providing quality orthodontic care for his neighbors in Rochester. He enjoys working with patients of all ages and even offers a family discount on orthodontic treatment. To learn more about braces for children, visit the Drabik Orthodontics website or call 585-730-7700.