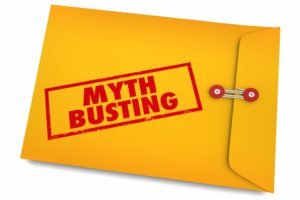 Traditional metal braces have been the go-to orthodontic system for generations because they are effective in treating even the most complex bite and alignment issues. Although they offer tried-and-proven results, there's a lot of misinformation about brackets and wires. Don't let unfounded rumors stand in your way of achieving a healthy, straight smile. Here are the facts you need about 7 common myths surrounding metal braces.
1. Myth: Metal braces will set off metal detectors.
Fact: Whether you pass through metal detectors regularly for work or only when you're traveling, you don't need to be concerned about your braces setting off any alarms. It's very unlikely your braces will be detected because scanners are looking for different kinds of metal.
2. Myth: Braces can rust.
Fact: Typically, metal will rust when it's exposed to water, so it's normal to wonder if the same will happen to your braces? Thankfully, you don't need to be worried about your braces rusting. Most braces are made with titanium alloy, so they will not rust, no matter how long they are in your mouth.
3. Myth: Braces can interfere with radio signals.
Fact: Although the metal used on braces may look like what's on your radio's antenna, they don't have any effect on radio signals.
4. Myth: Braces can get locked together from kissing.
Fact: You've probably watched a few movie and TV scenes where a couple kissing gets their braces locked together. You don't need to fret when puckering your lips for a kiss because it's only a gag used in the entertainment industry. Since modern braces are sleeker and smaller, it's nearly impossible for them to get caught on someone else's.
5: Myth: You're likely to get struck by lightning.
Fact: You know metal attracts lightning, but braces won't make you any more prone to being struck than someone who isn't wearing brackets and wires.
6. Myth: Braces will always hurt.
Fact: It's true you'll experience some tenderness after getting your braces put on and after any adjustments; however, the discomfort is minimal. You can use an over-the-counter pain reliever until it subsides. Your orthodontist will also recommend eating softer foods for a few days to avoid any unnecessary discomfort.
7. Myth: Metal braces are my only option.
Fact: Although metal braces are popular, they aren't the only orthodontic system. Invisalign is a favorite among teens and adults because clear aligners make the treatment virtually invisible. Invisalign is effective for correcting a variety of bite and alignment problems without using brackets or wires.
Don't let myths about metal braces make you apprehensive to improve your smile. Your orthodontist will explain everything during your consultation to feel confident about the road ahead.
About Dr. Stan Drabik
Dr. Drabik earned his dental degree at SUNY at Buffalo School of Dental Medicine before continuing his training in orthodontics at Boston University's Henry M. Goldman School of Dental Medicine. He is an award-winning orthodontist committed to providing personalized solutions for each patient. If you or a loved one need braces, contact our office today to schedule a consultation.