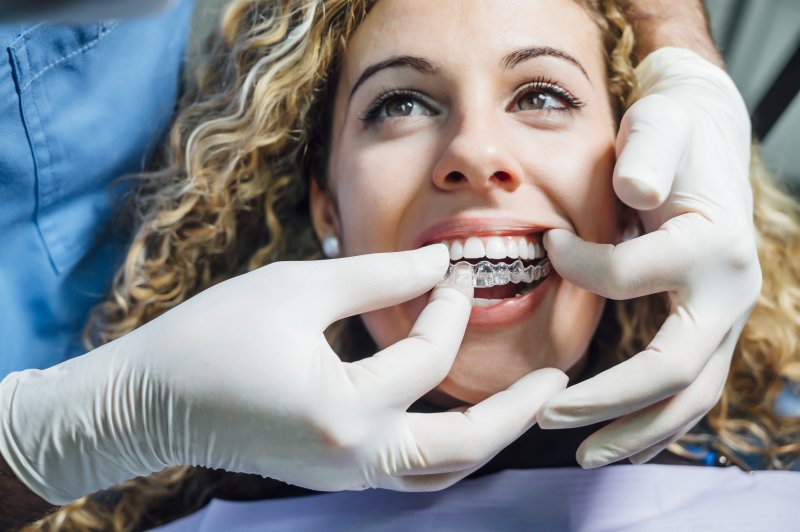 Millions of adults and teens have had their smiles transformed with Invisalign, letting them enjoy life with straighter, healthier teeth without the pitfalls of metal braces. As the number of people using Invisalign has grown, so too has the number of people wanting to learn more about the process and how to ensure its success. In this post, you'll find the answers to 4 common Invisalign questions that you'll want to know before beginning a treatment plan of your own.
1. What's the Best Way to Take My Aligners Out?
Some people have trouble removing their Invisalign aligners. The easiest method is usually to grab the back edge on one side and pop it off; after that, removing the rest of the aligner is simply. But for those who have trouble using their fingers alone, it might be a good idea to get a special pick to gently pry your aligner off. Generally speaking, Invisalign is tougher to remove during the first couple of days, but once the teeth have started to move, the aligner will loosen up slightly.
2. Does Invisalign Hurt?
The first time you wear Invisalign aligners, your teeth and gums will be sore. This is similar to what you'd experience with traditional braces; the discomfort is a sign that the aligners are exerting the pressure needed to move the teeth. Not only is it completely normal, but it should only last a week or so; past that point, the discomfort will be significantly diminished. When you switch to new aligners in the future, further soreness might occur, but it can be managed quite easily.
3. What Should I Do if I Lose an Aligner?
It depends on the situation. If you only needed to wear it for a couple more days, then you can just switch to the next one and continue the treatment. However, if you just switched the aligner or have several days to go before you're supposed to move on to the next one, then a replacement tray will likely be required. Call your orthodontist immediately so that they can order a new aligner right away. To make sure that all your progress isn't undone, you may be told to wear a previous tray until your replacement arrives.
4. How Long Do I Have to Wear Invisalign Every Day?
The usual recommendation is to keep the aligner in your mouth for 20 to 22 hours each day. It's generally better to err towards the 22-hour mark, though. The longer the aligners stay out of the mouth, the more likely they are to start to drift back to their original positions. You should be wearing Invisalign whenever you're not eating or brushing.
Is there anything else you want to know about Invisalign? Call your orthodontist today to set up a consultation where you can ask whatever is on your mind and gather as much information as you can before committing to treatment.
About the Author
Dr. Stan Drabik embraces a patient-centered philosophy at his Rochester practice, Drabik Orthodontics. He loves getting to know his patients as individuals and helping them attain dazzling smiles. He is a proud member of the American Association of Orthodontics, and he uses both braces and Invisalign to correct all kinds of crooked or misaligned grins. To schedule an Invisalign consultation, visit his website or call (585) 872-4660.