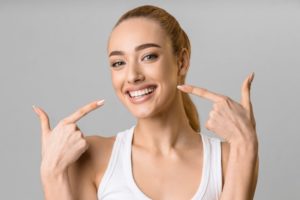 So you just got your braces off and you're ready to put the finishing touches on your smile. Because orthodontics often leave an uneven color, you're probably on the hunt for teeth whitening. Toothpaste, whitening strips, charcoal teeth whitening, and other items from the store are available, but none of them seem to be working out. You may notice a slight change, but these over-the-counter products simply aren't delivering the results you want. Now, you could turn to store-bought whitening kits, which are often unreliable. Or, you could get professional whitening, but that requires spending some time in the dental chair. Is there any other option? Thankfully, yes! You can get the beautiful results you deserve while sitting comfortably on your couch with professional take-home whitening from your orthodontist. Read on to learn about the benefits of this unique option.
Why You Should Choose Professional Take-Home Whitening
If you went to the nearest grocery store right now, you could find literally hundreds of whitening products. They all claim they can give you amazing results, which rarely actually pan out. That's because most generic whitening options like toothpaste or strips are too weak to lift tough stains from coffee, wine, smoking, or aging. On the other hand, some store-bought products are actually too strong, leading to the potential for damaged enamel.
However, professional take-home whitening allows you to enjoy the convenience of in-store products without the lackluster or even unsafe results. With this option, you can whiten your smile on your own schedule and pace for a completely tailored treatment. While in-office whitening is incredibly effective, the take-home solution is usually much more affordable. It's also a great option for patients who get nervous or scared of visiting the dentist.
How Does Take-Home Whitening Work?
Once your orthodontist takes an impression of your smile, they will create custom-made whitening trays. These trays will be given to you in a kit along with professional grade whitening gel, which is much better than anything you'll find in the store. Your at-home treatment is easy! All you'll have to do is apply the whitening gel to your trays and wear them for about 30 to 60 minutes each day. After just a few days, you'll begin to notice beautiful whitening, and you'll usually get the full result once 2 weeks have passed. If you're happy with how your smile looks before 2 weeks is up, you can always stop. Many people end up using their take-home whitening for touch-ups on their smile throughout the year to keep it bright and shining.
Everyone wants a whiter smile, and thanks to take-home whitening, it's easier than ever before. Skip the hassle and uneven results from a store-bought product and contact your orthodontist to enhance your smile's appearance on your own schedule!
Meet the Orthodontist
Dr. Stan Drabik has over two decades of experience helping his patients look and feel better. In addition to a wide range of orthodontic treatments, he offers Zoom! take-home whitening as an amazingly simple way for his patients to achieve the smile of their dreams. To get started, he can be reached through his website or by phone at either of his Webster or Rochester locations.