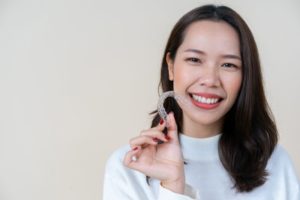 The internet has brought society so many gifts! Better communication, connectedness, and of course, access to more information. Thanks to social media channels like YouTube, Instagram, and SnapChat, do-it-yourself (DIY) and direct-to-consumer products are more popular than ever. This trend has impacted orthodontics with a variety of companies offering ways for people to straighten their teeth on their own through the use of mail order clear braces. As great as these services sound, they can actually cause a lot of damage. Read on to learn about the dangers of these products and why it's always best to choose orthodontics like Invisalign from a professional.
How Do Mail Order Orthodontics Work?
Mail order orthodontics have grown incredibly popular because they offer the ability to straighten your teeth in the comfort of your own home at a fraction of the price compared to traditional methods. You're mailed an impression kit, which you'll use to create a mold of your smile. This mold is sent to a technician for a quick exam, and it's used to make your aligners. You'll receive your aligning trays in the mail with a set of instructions for use – it's that easy.
What Are the Dangers of DIY Braces?
If mail order aligners sound too good to be true, that's because they are. Without a professional examining your smile in person, dental issues like infection can go untreated, eventually affecting the success of your orthodontics. Additionally, without supervision throughout the process, there won't be any adjustments made, which can lead to imperfect or temporary results. What's even worse is that some of these treatments have been shown to cause problems like tooth loss, crooked teeth, and more, which will cost you more time and money in the future than traditional orthodontics.
The Better Option
Thankfully, the issues described above can be completely avoided by taking one key step: seeing a Board-Certified Orthodontist in person. During your initial consultation, an expert will be able to recommend treatments for any preexisting conditions that may impact the success of your orthodontics. You'll also have someone to monitor your treatment throughout the process with checkups every 6 to 8 weeks. Plus, your Invisalign or braces will be completely personalized to meet your exact needs.
While Invisalign or traditional braces may seem like a more expensive option than mail order aligners, the investment in your smile could save you thousands in the future. And, by choosing a highly trained orthodontist, you can enjoy peace of mind while looking forward to predictable results.
When it comes to your smile, don't leave it up to chance! Contact a true professional and skip gambling online to get the straight teeth you've always wanted.
Meet the Orthodontist
Dr. Stan Drabik takes pride in offering a wide variety of affordable orthodontic options for patients of all ages. He has over 2 decades of orthodontic experience, and he is a member of a variety of organizations, including the American Association of Orthodontists, Seventh District New York Dental Association, and the American Dental Association. To schedule an appointment, contact Dr. Drabik through his website or by phone at either of his Webster or Rochester locations.