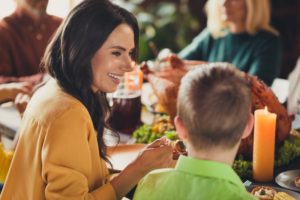 This year has sure been a crazy one, which gives you even more reason to look forward to holidays. Some time to relax, give, and get always helps, but you're probably also looking forward to all the food that comes with the festivities. Roasts, ham, pies, potatoes, sweets, and so much more are just around the corner, but the increased food intake can also pose a threat to the safety and health of your smile if you have orthodontics. That's why your orthodontist in Rochester has included a few do's and don'ts to help you properly maintain your braces during the holiday season!
See Your Orthodontist Before the Festivities Begin
Before you get too wrapped up in holiday plans, it's always a good idea to schedule a routine checkup with your orthodontist. This allows them to examine your smile, making any necessary adjustments for better function, comfort, and results. Your orthodontist will also be able to give you extra dental wax, elastics or any other items you may need over the next month or so.
Avoid Problematic Foods
Popcorn is especially popular around the holidays, but next time you're watching The Grinch, Elf, or any other festive classics, skip this item. Kernels can easily get caught in between teeth and braces. Plus, they can even break your orthodontics if you're not careful. You should also do your best to avoid extra hard or sticky candies because they can damage your orthodontics and put your teeth at risk of decay.
Brush & Floss Properly
Brush your teeth with fluoridated toothpaste after each meal and before bedtime to prevent dental issues while keeping your braces clean. If your orthodontist recommends an interdental toothbrush, be sure to use it so you can reach lingering plaque and food debris. You should also floss at least twice a day or after each meal. If you find it difficult to floss with braces, a floss threader can make it easier to reach in between your teeth.
Have a Travel Kit Ready
The holidays are full of uncertainty, and you may not always be home, which is why the best step you can take is to prepare a travel kit for your orthodontics. Keep a small bag with a toothbrush, travel-sized toothpaste, mouthwash, wax, (elastics if you need them), floss, and a small mirror to help you remove any pesky foods that get stuck in your smile.
The holidays can still be something to look forward to as long as you're prepared. Keep these tips in mind so you can indulge in your favorites while protecting your braces!
Meet the Orthodontist
Dr. Stan Drabik is a Board-Certified Orthodontist who combines over two decades of experience with continuing education courses to provide his patients with the latest and greatest services. Whether you need Invisalign, braces, or dentofacial orthopedics, he's ready to help. To schedule an appointment, contact Dr. Drabik through his website or by phone at either of his Webster or Rochester locations.