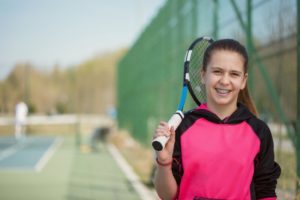 Crooked or misaligned teeth are incredibly common problems, which makes getting braces almost a rite of passage for adolescents. Around 3.5 million kids and teens start orthodontics each year, but how do braces affect their sports and physical activity. As a parent, you may be wondering whether your child can play sports with braces or clear aligners. Read on to learn the answer as well as what you can do to help protect their smile.
Playing Sports with Braces: Is It Possible?
If you're worried that braces or Invisalign will affect your loved one's ability to participate in the activities they love, don't be! When orthodontics are placed by a professional, there won't be any excessive discomfort that is distracting and your son or daughter can maintain their level of play. In fact, many pro athletes get braces to ensure that their smile is camera-ready. One of the most famous examples is international soccer superstar, Cristiano Ronaldo, who got braces earlier in his career (while still breaking records).
How to Protect Your Child's Smile
Of course, metal braces do pose a threat to the safety of your child's mouth during sports, especially if it's a more physical one like football or hockey. Thankfully, your expert orthodontist offers sports mouthguards that are designed specifically for braces. Unlike store-bought products, these oral appliances are completely custom-made, allowing those who wear them to enjoy complete comfort and protection. Normal mouthguards won't accommodate orthodontics because they can't fit over the teeth and braces. However, your orthodontist has a simple and effective solution that will keep your loved one making plays with a smile! By taking special impressions of their teeth, they can create smile protection that could even boost their level of confidence during sports!
Orthodontic Emergency? Here's What You Can Do
While the right protection reduces the possibilities of orthodontic emergencies like broken braces dramatically, sudden issues are unfortunately never completely preventable. It's best to have a plan in place so you know exactly what to do if your son or daughter does have an orthodontic emergency. If your child notices something is wrong, contact your orthodontist right away. The most common issue is a loose or poking wire, which can be temporarily fixed by using dental wax to smooth the pointed part. This keeps the braces from irritating the inside of your child's mouth. Once you've helped them get more comfortable, visit your orthodontist as soon as possible for a proper repair.
The combination of orthodontics and sports is not only possible, but unavoidable for millions of kids. Just make sure that you provide them with proper protection for healthy and safe smiles.
Meet the Orthodontist
Dr. Stan Drabik is an experienced orthodontist who offers a variety of services for patients of all ages, including Invisalign, traditional braces, and retainers. He also provides custom-made mouthguards for ultimate smile protection. If you have any questions or want to schedule an appointment for your child, contact Dr. Drabik through his website or by phone at either of his Webster or Rochester locations.