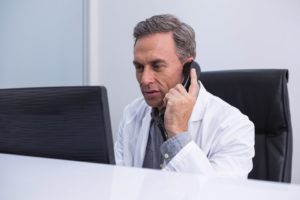 From streaming movies on Netflix to holding online video meetings for work, so many important aspects of our lives are facilitated by the internet and digital technology. Now, you can even connect virtually with your orthodontist! Whether you already use Invisalign or are a parent whose child may need orthodontics in Rochester, teledentistry allows patients to reach out to their dental care providers with the click of a button. Virtual consultations with an orthodontist offer patients a host of benefits and are especially useful during the current COVID-19 pandemic. Keep reading to learn how you can avoid an unnecessary trip to your orthodontist thanks to teledentistry.
How a Virtual Consultation Works
If you have bite problems or other dental issues that you believe would benefit from orthodontic treatment, scheduling a virtual consultation with your orthodontist is a great first step to achieving the smile you desire.
Once you have arranged for a virtual consultation, just take a few quick photos of your teeth from a variety of angles and e-mail or text them to your orthodontist. He or she will likely request photos of your:
Front bite
Lower pallet
Left side bite
Right side bite
Upper pallet
Your orthodontist will carefully examine the photos and will be able to recommend the appropriate orthodontic treatment or provide a progress report if you already wear Invisalign or traditional braces. If orthodontic treatment is recommended, you will even receive key information such as estimated time and overall cost during the virtual consultation.
You can also send your orthodontist any questions or concerns you have about your smile and get real answers in a matter of minutes. It is that easy!
The Benefits of a Virtual Consultation
Many women and men in Rochester opt for virtual consultations with their orthodontist for the following reasons:
Maintain social distancing – Avoiding crowded spaces – especially indoors – and refraining from unnecessary physical contact can help slow the spread of COVID-19. Teledentistry enables everyone to follow health experts' recommendations while still receiving the orthodontic care that they need.  
Timely advice for parents – Parents often worry about whether or when their child should start braces, but traditionally the only way to find out has been through an in-office visit to an orthodontist. Thanks to teledentistry, orthodontists can now evaluate youngsters' smiles and prequalify them for treatment without having to step foot into an office.
Check Invisalign progress – Some people may hesitate to commit to Invisalign treatment because they do not want to deal with the hassle of periodical progress checks. However, now Invisalign patients can easily check in with their orthodontist using their phone or laptop and quickly confirm that their teeth are moving in the right direction.
Should I Take Advantage of Teledentistry?
Whether you are worried about venturing out during the COVID-19 pandemic or just have a busy schedule and want to save time, you can likely benefit from teledentistry if you need or already have orthodontics in Rochester. Talk to your orthodontist today about whether they offer virtual consultations and how you can connect from the comfort and safety of your home.
About the Author
Dr. Stan Drabik has over two decades of experience helping improve the smiles of his neighbors in Rochester with quality orthodontics. An active member of the American Associations of Orthodontists, Dr. Drabik is always seeking new, convenient ways to deliver attentive orthodontic care, which is why he offers virtual consultations. For more information on teledentistry, visit the Drabik Orthodontics website or call 585-872-4660.