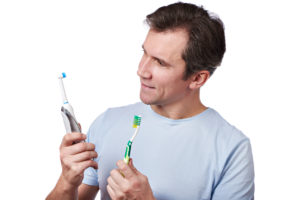 If you or your child are undergoing orthodontic treatment, you likely already know how important it is to practice proper oral hygiene. After all, just a single unexpected cavity could complicate or slow down the journey to a straighter smile. Fortunately, it is easier than ever to keep one's teeth healthy and orthodontic treatment on track thanks to the availability of high-quality electric toothbrushes. Whether a person is wearing braces or straightening their teeth with Invisalign, electric toothbrushes can help fight against tooth decay. Interested to know more? Keep reading to learn about the benefits of electric toothbrushes and read some reviews of popular models from your orthodontist in Rochester.
The Benefits of Using an Electric Toothbrush
The American Dental Association considers both manual and electric toothbrushes to be effective tools for keeping your teeth clean. However, electric toothbrushes do offer several distinct benefits, such as:
More Strokes – An electric toothbrush can oscillate thousands of times per minute! All those extra strokes add up to a thorough cleaning that effectively removes harmful plaque from your teeth.
Timer Aid – It can be easy for the mind to wander and lose track of time while brushing. That is why many electric toothbrushes have automatic timers that can alert you when you have reached the two-minute mark when brushing.
Convenient for Kids and Senior Citizens – Because they tend to be slightly bigger and rotate automatically, electric toothbrushes are often easier to use for seniors with arthritis. Meanwhile, brushing may seem like less of a chore for young children since electric toothbrushes come in all shapes, colors and even characters.
The Best Electric Toothbrushes for Orthodontics
Here are some of the best electric toothbrushes on the market today:
Oral-B Pro 1000
This model's 8,000 strokes per minute are sure to help remove plaque and debris from between brackets and wires! The Oral-B Pro 1000 has a waterproof handle and also boasts a two-week battery, so you do not have to worry often about recharging.
Greater Goods Sonic Toothbrush
Do not let the unfamiliar brand name put you off – the Greater Good Sonic Toothbrush offers great versatility at an unbeatable price (less than $20!). Users can select multiple cleaning modes and different kinds of bristles, and it even comes with two differently colored brush heads, making it perfect for couples who want to share.
Philips Sonicare DiamondClean
With a sleek and minimalist design, the Philips Sonicare DiamondClean toothbrush looks like the electric toothbrush of the future. It comes with two different brush heads and can clean your teeth for 3 full weeks before needing to recharge. While on the higher end of the price scale, the Philips Sonicare DiamndClean toothbrush combines high-quality hardware with smart technology to deliver clean smiles.
Which Is the Best Electric Toothbrush for You?
Any of these electric toothbrushes would be an excellent choice for someone with braces, but by no means is this list comprehensive. If none of these 3 options seem to be what you are looking for, do not hesitate to ask your orthodontist in Rochester for a recommendation – they will be able to point you in the right direction!
About the Author
Dr. Stan Drabik has helped Rochester residents achieve healthy, straight smiles with quality orthodontics for over 20 years. An active member of the American Associations of Orthodontists, Dr. Drabik is always willing and eager to share oral care tips with his patients. For more information on electric toothbrushes or how to care for your smile while wearing braces, visit the Drabik Orthodontics website or call 585-872-4660.