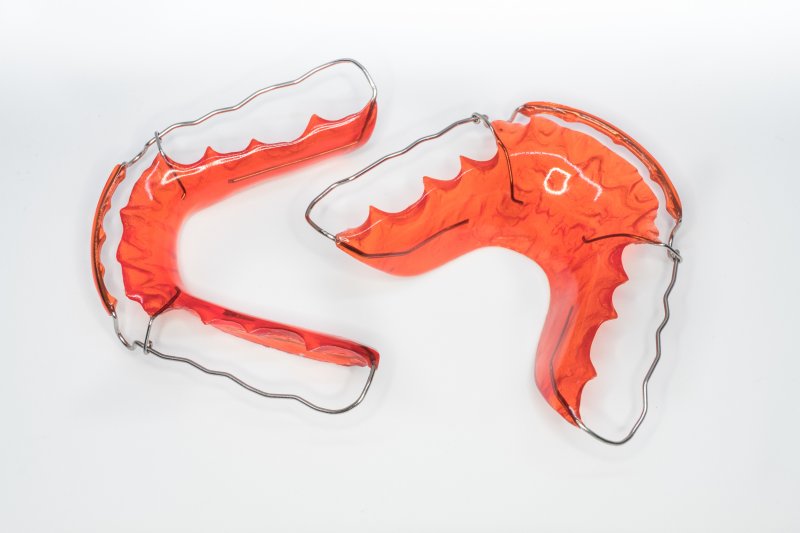 After your braces are removed, you'll receive a retainer to make sure your newly aligned teeth stay where they are. This device is very simple and easy to wear – but sadly, it is not indestructible. There are plenty of ways a retainer or another oral appliance can break, and when they do, you'll have to act quickly if you want your treatment to stay on track. Here's everything you need to know in order to keep your appliance – and your smile – safe.
What Can Cause Oral Appliances to Break?
There are several ways for an oral appliance to be damaged. For example, if you repeatedly take it out of your mouth the wrong way, it will suffer from unnecessary strain and eventually crack. You could also unintentionally break it during cleaning. And of course, dropping it is extremely likely to cause problems.
Fixed retainers in particular are prone to failure because they're not very strong by design. To avoid aesthetic issues or problems while cleaning your teeth, they tend to be very thin. As such, they may eventually break due to wear and tear or from eating certain foods. The adhesive that holds them in place is likely to deteriorate as well.
How Will You Know an Oral Appliance Has Been Damaged?
If you have a removable retainer, you should be able to tell whether it has been damaged simply by looking at it. Fixed retainers can be a little trickier; in fact, you might not even notice there's a problem until your teeth have started to shift. It's just one more reason why regular oral checkups are so important!
What Should You Do If Your Oral Appliance Breaks?
Never try to repair any oral appliance – removeable or otherwise – on your own. You could end up making the problem worse and may even damage the device beyond repair. Get in touch with your orthodontist as soon as you can. You won't necessarily need to have an appointment immediately, but the risk of your teeth moving becomes greater the longer you wait.
If you have a removable appliance, make sure that it's stored safely until you can see your orthodontist. For fixed retainers, you'll simply need to be careful not to make the damage work; that means avoiding hard, sticky, or gummy foods that could damage the device. You may also be able to protect your retainer by wearing a mouthguard at night.
How Can You Avoid Breaking Your Oral Appliance in the Future?
If you don't want your oral appliance to break, you'll need to be extremely careful with it. If you have a removable retainer, handle it with care so that you don't drop it or put too much pressure on it. For fixed retainers, it's best to avoid biting down on anything hard that could end up damaging it.
Of course, you'll naturally be doing everything you can to protect your oral appliance. But if an issue does occur despite your best efforts, it needs to be addressed as soon as possible. Don't let all the work you and your orthodontist have already done to enhance your smile go to waste!
About the Author
Dr. Stan Drabik has well over two decades of orthodontic experience. As a proud member of the American Association of Orthodontists, he's an expert in using braces to straighten teeth as well as providing fixed and removable retainers to help you enjoy your new smile for life. To schedule an appointment at his Webster practice, Drabik Orthodontics, visit his website or call (585) 872-4660.