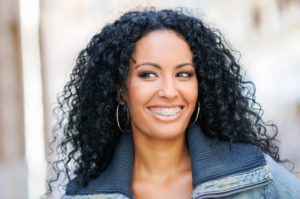 Are you considering a straighter smile? If you have crooked teeth, you may be familiar with the aesthetic and health disadvantages that they can bring to your smile. Many turn to orthodontics to correct this issue, but the cost of treatment can be an investment. That leaves many patients wondering whether or not their orthodontic treatment is covered by insurance. Keep reading to learn the answer from your orthodontist in Rochester.
What is Orthodontic Treatment?
When you think about orthodontics, you may picture traditional metal braces. These have been used for decades to give patients straighter smiles, but thanks to modern dentistry, there are now a variety of orthodontic solutions. It's important to understand the difference between traditional braces made of brackets and wires versus a treatment like Invisalign that involves the use of clear plastic aligners. While various treatments have the same end result, the journey to get there is much different. Therefore, insurance coverage can vary depending on the treatment that you elect.
Does Insurance Cover Orthodontics?
With the many insurance plans available, the type of coverage you have can differ. However, typical dental insurance will tend to cover or at least partially cover dental treatments that are necessary for your health. In general, traditional orthodontics are covered by at least 50% because most insurance plans deem this treatment necessary for positive oral health.
However, even though Invisalign clear braces provide the same results as traditional braces, most insurance companies deem them as an unnecessary treatment. Unfortunately, that means that Invisalign and other more aesthetically-pleasing orthodontic services aren't covered by insurance. Your orthodontic practice with a friendly staff is happy to file your insurance claims and try to maximize your coverage. Sometimes, while the treatment itself can't be covered, other parts like the consultation or retainer may be covered. The answer just depends on the type of insurance plant that you have.
Alternative Options
Many people don't have dental insurance, or even when they do, they want a service like Invisalign that isn't covered. Thankfully, your orthodontist has special offers and dental financing to make it easy. Now you can receive the quality care that you want and need without breaking the bank. Your orthodontist is happy to work out a financing plan and their team will try to maximize your savings in any way possible.
Are you ready to take your first step towards a straighter smile? Contact your orthodontist in Rochester to set up a consultation, where you'll receive a fair estimate.
Meet the Orthodontist
Dr. Stan Drabik is an experienced orthodontist who offers a variety of services to give you the treatment that works best for your smile. He has made it his mission to provide his patients with quality orthodontics that are also affordable. For any questions, he can be reached through his website or by phone at either of his two locations.