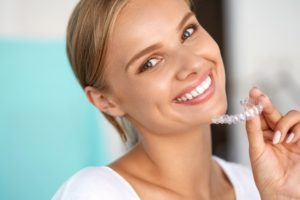 Many people have crooked teeth but avoid getting them straightened because of the appearance and hassle of traditional braces. For years, these uncomfortable and obvious wires and brackets were your only option. However, modern technology has brought Invisalign clear braces as an amazing option. Read on to learn more about Invisalign, its benefits, and whether you could receive this comfortable and aesthetically-pleasing treatment.
What is Invisalign?
Your orthodontist uses Invisalign, which is a series of clear plastic aligning trays to gradually shift your teeth into place. You will wear your aligners for 20 to 22 hours a day, for 2 weeks. After, you will switch your current aligners for the next in the series to progress your treatment. This gradual shifting ensures lasting results, but your orthodontist will still provide you with a retainer after it's completed to make the new position of your smile permanent.
What are the Benefits I Could Receive with Invisalign?
There are many advantages that Invisalign can bring you, but here are some of the most popular:
Appearance: Invisalign's clear plastic design allows you to straighten your teeth without anyone noticing.
Comfort: These aligners are made of smooth plastic and are completely removeable, providing you with comfort while wearing them.
Confidence: Invisalign gives you the confidence to receive a better looking and feeling smile during your personal and professional lives.
Diet: Because these aligners are removeable, you can eat all of your favorite foods without getting debris caught in your braces.
Speed: Typically, Invisalign's treatment time is shorter than traditional braces.
How to Care for Your Clear Braces
It's important to keep your aligning trays clean for a successful treatment. You can use the Invisalign cleaning system or a nonabrasive toothbrush, clear hand soap, and room-temperature water. Make sure to avoid using hot water because it can permanently warp the plastic, affecting the success of your treatment.
Am I a Candidate?
Candidates for Invisalign are usually those with mild to moderate misalignment. Unfortunately, certain bite issues and more severe misalignment can only be corrected by traditional braces. Candidates are also typically those who are committed to wearing their aligners as instructed for beautiful and lasting results. The best way to know if you're a good candidate for Invisalign is to schedule an appointment with your orthodontist.
Does it sound like you could benefit from Invisalign aligners? A clear and comfortable way to straighten your teeth is just one click or call away.
Meet the Orthodontist
Dr. Stan Drabik is an experienced orthodontist who takes pride in offering Invisalign treatment to give his patients an alternative to traditional braces. For any questions, he can be reached through his website or by phone at either of his 2 locations in Webster and Rochester.