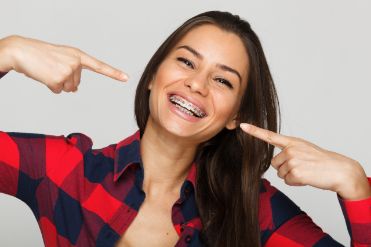 We've been serving the community's orthodontic needs for quite some time, and now we're excited to share our first blog with you! Each month we'll write about a new topic that includes various tips and tricks to help you get the most out of your orthodontic experience – from start to finish. In today's blog, you'll get an introduction to our practice and learn about the many services an orthodontist can provide. Whether you're an existing patient or you haven't had your first visit yet, we look forward to helping you achieve a healthy, beautiful smile!
What Services Do We Provide?
Many people think that we only provide traditional braces, but we actually offer so much more. In some cases, even patients as young as age 7 can benefit from what's called Phase One pediatric orthodontics. This early intervention helps them minimize or even completely avoid major problems later on.
And, for teens and adults of all ages, we offer many different orthodontic options, including:
Hidden braces
Invisalign
Clear/ceramic braces
Self-ligating braces
Same-day braces
Accelerated treatment for patients who want to enjoy their new smile in less time
Retainers and oral appliances
We also provide dentofacial orthopedic treatment, which is usually done before braces to ensure that the upper and lower jaws are in ideal alignment. This can make a big difference to both the function and appearance of a patient's smile.
For more detailed information, please see our Services page!
What's Our Approach To Patient Care?
We always start by making sure we understand your needs and what you want to achieve. Then we take multiple factors into consideration, including your medical and dental history, age, lifestyle, and budget so we can make the absolute best recommendation for you.
When you're here, you can count on old-fashioned personal attention from every member of our friendly and highly-skilled staff. From the first day of your treatment to the last, we promise that you'll enjoy your visits with us.
So, if you or someone in your family would like to correct your bite and enhance your smile, the first step is scheduling a consultation so you can have all your questions answered.
Also, to make your visits as convenient as possible, we have 2 locations in Webster and Rochester. And we are accepting new patients, so don't hesitate to contact our office. You can also follow us on Facebook and Instagram for updates and other information.
There's no question that orthodontic treatment pays off in many ways. And we look forward to providing you with the best orthodontic care possible!
About the Author
As an orthodontist with over 20 years experience, Dr. Stan Drabik gets immense professional satisfaction from delivering beautiful results his patients will enjoy for a lifetime. He and his staff love what they do and look forward to serving the community for many more years. If you're interested in orthodontic treatment and have any questions, he can be contacted via his website.